Home Care Staffing
Take care of your loved ones with help from our Certified Nurse Assistants (CNAs). Whether they are in their homes, an assisted living facility, or in the hospital, we go out of our way to manage their medical needs. We also help with personal care issues and are an advocate for your loved ones when they need extra assistance. UMTS provides staffing availability from 2 - 24 hours every day. We invite you to learn more about our unique and expert services.
| | | |
| --- | --- | --- |
| In Home Assistance | Medical Health Monitoring | Social, Cultural & Educational Activities |
| •Nutritional Meal Planning | •Blood pressure monitoring | •Day-Planning |
| •Personal essentials | •Blood Glucose monitoring | •Healthy Lifestyle Promotion |
| •Companionship | •Licensed Professionals | •Local Community Events |
Phlebotomy Services On-Demand
Universal Medical Training Services can place a phlebotomist in your doctor's office for temporary assignment. If your regular nurse or phlebotomist is unavailable, we can be there for you. We also provide training for your medical staff to keep them current on the latest equipment and enhance their skills as well.
National Certifications put you in demand!
An aging "Boomer" population in the U.S. has lead to increased demand for skilled health care professionals. Becoming a "Certified" Phlebotomist will put you in demand. Your professional certification will become your gateway to a world of opportunity in a field that desperately needs skilled professionals right now more than ever!
If you are looking to work in a satisfying profession, help members of your community and take yourself to new heights...your journey starts here!
We are Universal Medical Training Services (UMTS), founded by innovative leaders in the medical profession that came together in order to help contribute substantially to the future of Patient Care Technicians, Phlebotomy Technicians and Medical Laboratory Assistants all over the nation.
UMTS courses are ONLINE!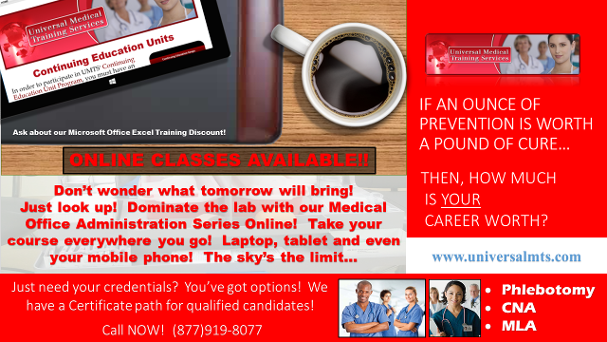 Certified Phlebotomy Technician
Certified Nurse Aide
Patient Care Technician
Medical Laboratory Assistant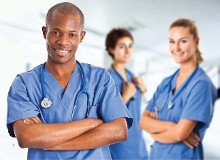 • Online component Programs
• Phlebotomy
• EKG technician
• Office administration
• Basic life support
• Laboratory Technician
• Blood draw, Blood work & Blood Screening
• All wrapped up in one!
• Get in demand!
• You can becom certified in as little as three months!
Advanced Computer Training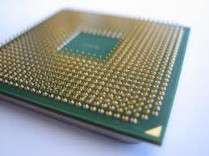 • Computer Boot Camp for beginners
• Cyber Learning Center for all ages
• Math, Algebra, Number Systems plus Basics Review!
• Adult workshops (Seniors Included)
• Learn the digital skills that will impress hiring managers!